Once in the nursery, Lindsey had to endure more indignities. She was weighed (7 pounds, 13 ounces) and her head was measured.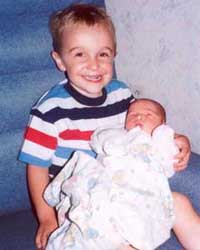 Alex was very proud of his new baby sister.
Three weeks after her birth, Lindsey celebrated the second birthday of her cousin Laura.

(It was a normal-sized head.) She had ink smeared on the soles of her feet and she was forced to wear a strange and exotic garment called a "disposable diaper." Lindsey must certainly have been entertaining thoughts of returning to her comfortable home in the womb, but as those of you who are old enough to read these words must know, that is a return trip that few, if any, ever manage to make.

Much of Lindsey's first day consisted of a cycle of naps and feedings, interrupted from time to time by medical examinations. Later in the day, she would serve as hostess to a variety of visitors. In addition to meeting and getting to know her parents, she would also have her first encounter with her older brother Alex (at the time of her birth, Lindsey was the youngest child in her family), two of her grandparents, two of her aunts, and two of her young cousins.

In the days that followed Lindsey would settle into her daily routine of eating, sleeping, and crying. She attempted to test the limits of her parents' sanity by allocating far more time to crying than to sleeping. Lindsey is gradually learning to enjoy her waking moments, and has recently been spending more and more time gurgling, cooing, and smiling, to the delight of her parents.

What does the future hold in store for Lindsey? For the short term, we predict (with rose-colored glasses) more sleeping and less crying. Beyond that, only time will tell. Lindsey's presence here on the Internet will continue for some time to come, as she picks up where her brother (star of the sometimes-controversial Alexander Home Page) left off.

So please come back from time to time. We promise that you'll either be entertained, bored, or offended. (We hope you experience all three sensations!) And if you have any comments or suggestions, send us an e-mail.